WHITE CANE DAYS
Saturday, October 8th and Sunday, October 9th, 2022 have been designated "White Cane Days" by the Carson City Host Lions Club.  Lions will be available at the North Carson Street Save Mart from 10:00am to 4:00pm each day to bring awareness to the public of the sight preservation programs the Lions support, and to raise funds as part of the annual White Cane Days.
Lions will provide information about vision preservation programs available, increase awareness of the white cane traffic safety laws, and collect used eyeglasses for distribution to those in need.
Funds donated by community members will be used for programs that assist blind and other visually impaired people in Carson City.  Annually, the Carson City Lions provide eye exams and new eyeglasses for about 60 people who could not otherwise afford them.  The Lions rely on their partners at FISH and the Ron Wood Foundation to refer clients in need.
Local Lions have raised thousands of dollars since the Club first started in 1932 to support numerous projects, including the sight preservation program, Leader Dogs for the Blind, Lions Project for Canine Companions for Independence (LPCCI), Lions Eye Foundation of Nevada and California, and Lions In Sight.
EYEGLASS DONATION LOCATIONS IN CARSON CITY
The Carson City Host Lions Club has about 35 members and meets at noon on the second and third Tuesdays of the month at Tito's on Williams Street. They also meet the first Monday of the month at 6 p.m. at the Black Bear Diner. The Lions Club is a group of men and women who identify and fulfill vision, hearing, environment, youth, and other charitable needs within our community.
If you have prescription eyeglasses that are no longer in use you would like to donate to community members in need, drop off boxes are available year round at the following locations: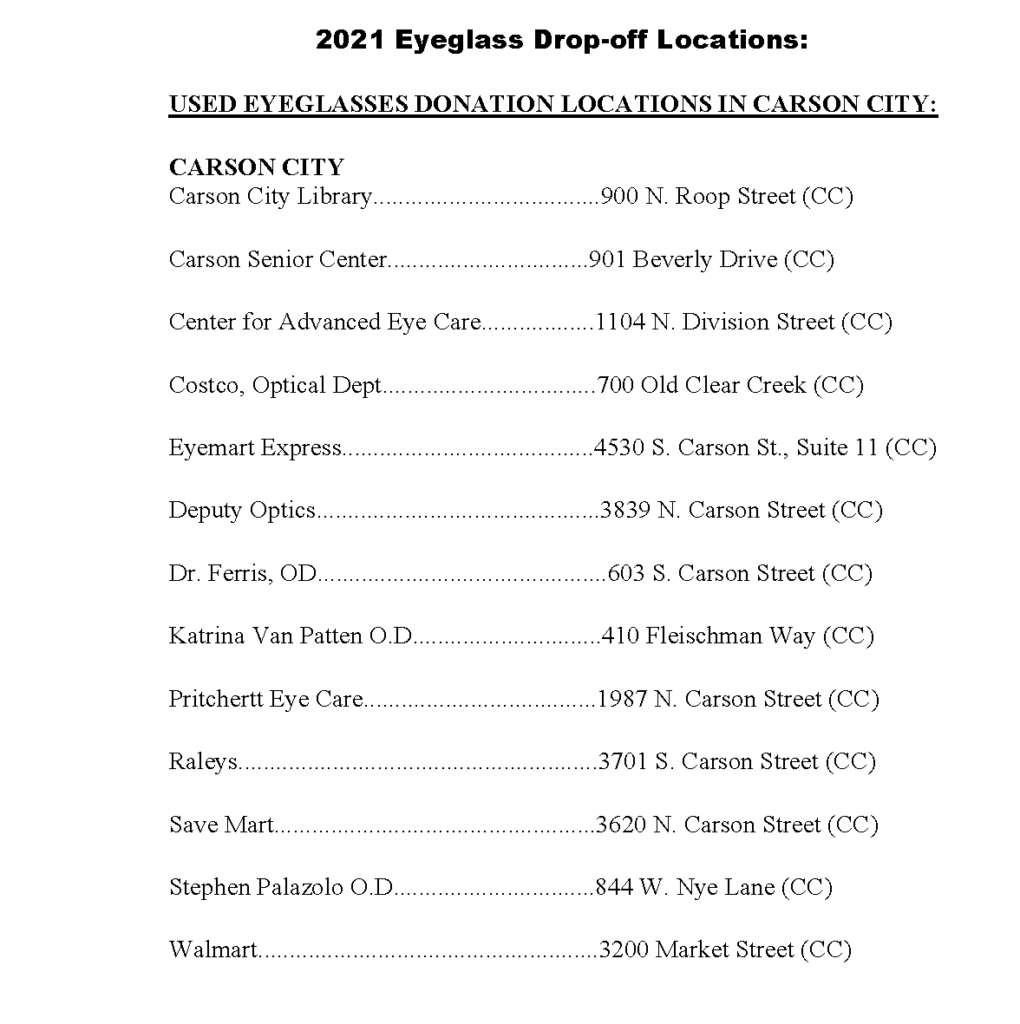 APPLICATION FOR EYE EXAMS AND EYEGLASSES FOR CARSON CITY RESIDENTS:
Lions Clubs worldwide are dedicated to our founding mission of sight conservation.  The Carson City Host Lions Club assists those in our community who may need eye examinations and eyeglasses, and who otherwise may not be able to afford them.
If you are an adult resident of Carson City needing these services (school-age children should contact the School Nurse at their respective school in Carson City), you may obtain an application for the Lions Club eye exams and eyeglasses assistance by contacting one of the following agencies.
If you have questions about White Cane Days, donating eyeglasses, becoming a donation location, applying for eye car services, or know someone in need please visit our Contact Us page to find information on how to contact the Carson City Host Lions Club.